NOTE: This site looks much better in current browsers that support Web standards, but it is designed to be accessible to any browser.
FIFTH FRIDAY FEAST
Save the date for March 31, when Peace will hold another Fifth Friday Feast at Peace for Friends, Family and Foes! All are welcome to this free community meal.
SEASON OF LENT
The Season of Lent calls us to a time of somber reflection on the paths we walk, the decisions we make, where we place our trust and allegiance. Do these reflect the journey that Jesus is on as he nears Calvary – the journey he has called disciples us to take as well for his mission in the world?
Devotions for the season are shared daily on our Facebook page and sent to the Peace Listserv. Several printed copies for the upcoming week are available (see table in lobby.)
The sanctuary setup for worship this season is intended to foster stronger community as we face one another. An extra benefit is the corporate response, prayers and singing is more vibrant and connected when we are closer to one another in proximity!
ELCA BISHOP ON IMMIGRATION
The Rev. Elizabeth A. Eaton, presiding bishop of the Evangelical Lutheran Church in America (ELCA), has issued a pastoral message addressing President Trump's executive order to restrict entry by refugees and visitors into the United States from seven predominately Muslim countries.
"The Bible calls us to welcome the stranger and treat the sojourner as we would our own citizens. I agree with the importance of keeping our country secure as the administration stated in its executive order last Friday, but I am convinced that temporarily banning vulnerable refugees will not enhance our safety nor does it reflect our values as Christians. Instead, it will cause immediate harm by separating families, disrupting lives, and denying safety and hope to brothers and sisters who are already suffering."
You can read the entire message on the ELCA website. There you also will find links to the church's social statement on immigration and resources to examine issues such as migrant workers, disaster relief, and refugees.
Bishop Eaton, along with Pastor Debbie, also added her signature to the thousands of religious leaders across denominations and faith traditions who signed a letter from the Interfaith Immigration Coalition that urges the Trump administration to heed an "urgent moral responsibility to receive refugees and asylum seekers who are in dire need of safety."
You can read the entire letter on the IMC website.
Our Mission ... Creating Christ-Connected Community
Who's welcome here ... Everyone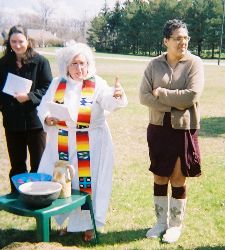 Peace is an inclusive community open to all regardless of ability, age, church experience, race, creed, gender, cultural background, political bias or sexual orientation. One's presence is all that is needed to participate in the life of Peace.
Who are we ... A Water Family
In the freeing, living waters of baptism, we are joined to Christ and to one another as brothers and sisters called to be servants of God's grace in the world.
The community life of Peace is grounded in worship and dedicated to being active in mission, celebrating, learning, and sharing the love of God in Christ Jesus. Peace is a growing and generous congregation that offers a sense of belonging and friendship filled with a great spirit of cooperation and support.
Established in 1969, Peace is an active member of the Northwestern Ohio Synod of the Evangelical Lutheran Church in America (ELCA).
Where are we ... Bowling Green, Ohio
Peace Church is located at 1021 West Wooster Street, near the corner of West Wooster and Martindale, with our south entrance and additional parking at the corner of Pearl and Martindale. Peace is just west of Wood County hospital and next door to the fire station (click here for a map).
Worship ...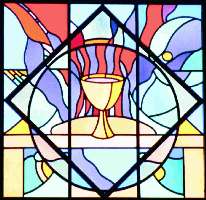 Worship is primary and central to the community life at Peace. It is a sacred time to connect with God's Spirit and one another. Worship at Peace is casual and uplifting. It celebrates God's love for all and it builds one another up for Christ's sake in the world.
Holy Communion, where bread is broken, wine is poured and the Lord's meal is shared, is celebrated each week at each service. It is open to all. There are no requirements, restrictions or judgement on whether you participate or not!
Everyone is welcome at worship, from the youngest and most energetic to the more slow and steady in pace!
For those who choose, a staffed nursery for the wee ones is available on Sunday mornings at 10:30.
If you have any questions, feel free to contact me (419-352-0241 or pastordeb @ peacechurchbg.org). You are welcome here!
Peace,
Pastor Debbie Conklin
This page updated 3/13/2017
If you have any comments, questions or suggestions, please send us feedback.